Creating a Document Object
You can connect Vine objects are linked to each other by connections. Vine shows an object together with links to all objects directly connected to it. documents created with other applications to Vine document objects All information in Vine is stored in the server database as named objects of different types. Examples: a company, a person, an event, a sales case..
Save a document and then drag its icon into the view of the Vine object to which you want to link the document. Vine automatically creates the document object and a connection between the document object and the other Vine object.
Vine saves only a reference to a document, not its contents.
If you move documents from the original storage place to the other storage place, you should create Vine document links anew.
To create a new document object, hover the mouse pointer over the plus sign

 in left toolbar and select Document. A document Edit Form will appear.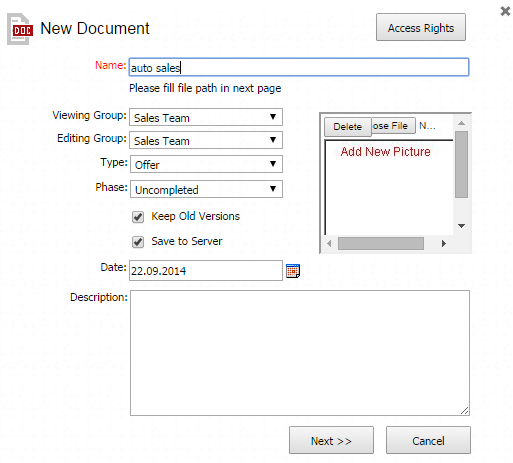 Enter the name of the document and its description.

Set the needed access rights, Document type, phase In Vine Marketing, a phase is an independent stage of a query. It has its operation type and criteria loaded in its Contents field. and date with time if needed.

Note: The standard Document edit form includes the following settings which can be disabled if you are not a member of the Vine Document Manager license group.
Select Save to Server if you want to store the document to the database. Clearing this setting automatically clears and disables the Keep Old Versions setting.

Select Keep Old Versions if you want to store all versions of the document. Clear the checkbox to keep only the latest version of the document.
Click Next.
If you have not selected Save to Server then browse for the document file and click Save: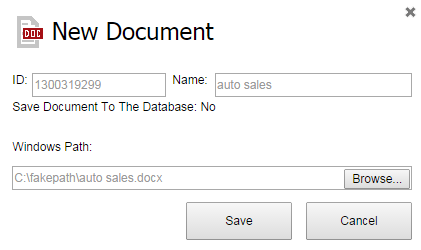 Please note that when not using Vine Document Manager, Vine Web saves only a reference to a document, not its contents.
If you have selected Save To Server then browse for the document file and click Upload File: