Using Call Control Dialog
The call controlling dialog shows up at the bottom right corner of your Windows desktop for every call. It includes command links which you can click to control the call.
Accepting Call
For an incoming call, you can click Answer or the person link to accept the call or click Reject to decline the call. Clicking "X" will hide the call controlling dialog.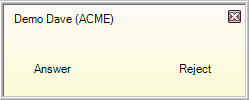 During Call
After you accepted the call, the control dialog changes and starts to count the time of the call. You can click Hang Up to terminate the call: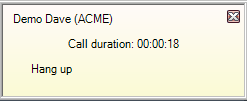 Logging Call
After the call, you can click Create Event to open an event where you can save the information about the call: