Using Monthly Calendar
Selecting Month and Year
To change the month and the year shown, click on the name of the month currently displayed and select the desired month from the pop-up menu that will appear or scroll through the monthly sequence by clicking the arrows enclosing the month name.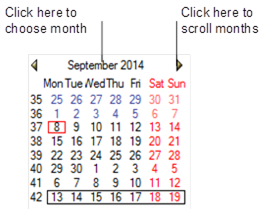 Selecting Days
Vine Calendar shows the days selected on the monthly calendar located in the upper right corner of the Calendar window. Drag over the days you wish to see from your calendar. You can also select a whole week by clicking its number (left column) or a week day by clicking its abbreviation in the top row.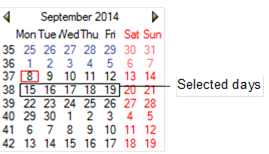 The alternative quick way is to use the following day selection shortcuts.
| | | |
| --- | --- | --- |
| Icon | Shortcut action | Visualization |
| | "Today". Changes selection to the current day according to your Windows settings. | |
| | "Workweek". Selects the current week without weekend. | |
| | "Full week". Selects the whole week. | |
| | Selects workdays from the current and next weeks. | |
| | Selects the whole month. | |