Overview
The Marketing Automation Tool is an instrument for you to do all your marketing activity and analysis from one place. It includes all the required instruments for email marketing campaigns, tools to automate marketing actions, and informative dashboards about your Customers, Prospects, and Web site visits.
You can click the following link: Vine Marketing Automation Tool to open the tool.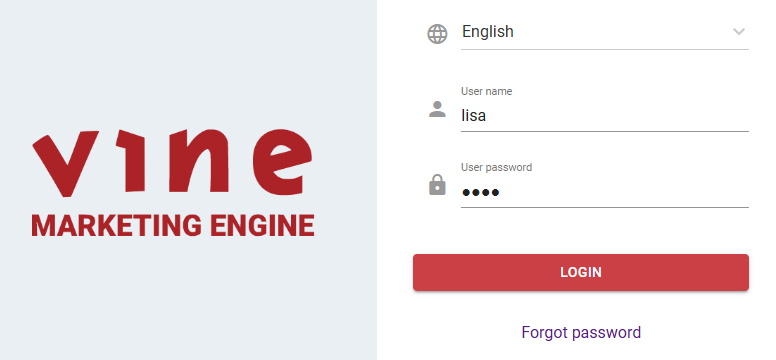 Use your Vine user name and password to login.
The main panel of the tool will open.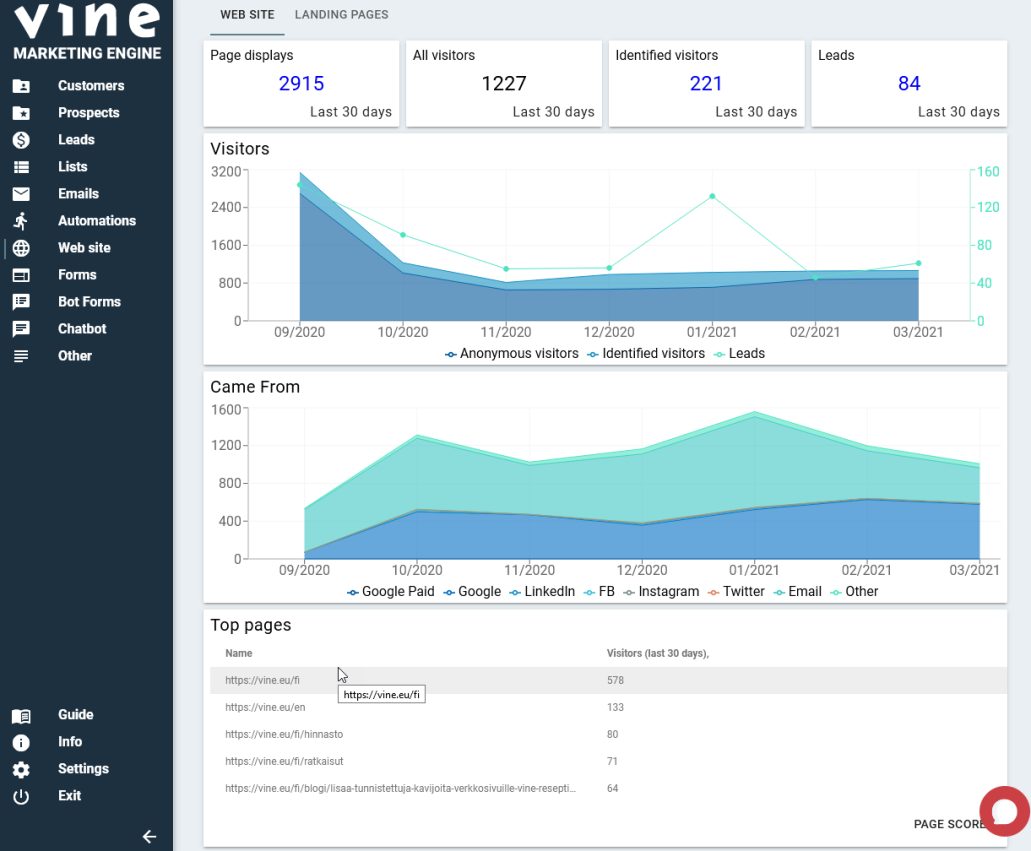 The left panel includes the tool menu and on the right the tool working area is located.
Customers. This page summarizes marketing data about your customers.
Prospects. This page is very similar to the Customers page but summarizes marketing data about your potential customers. It also allows you to load more prospects from an external address service.
Leads. The Leads page is a summary of all Lead events raised during the last quarter.
Lists. This page includes email lists and person tag lists
Emails. This page allows you to create and send new marketing emails, as well as analyze statistics of previously sent emails.
Automations. The Automations page allows you to build flexible automation workflows for your marketing needs and examine how they perform.
Web site. This page summarizes your site usage statistics and allows you to set page visit scores.
Forms. On this page, you can create and embed web forms to your web site. You can use our forms to collect contact data of site visitors, record their actions, start automations and so on.
Bot Forms. On this page, you can create and embed interactive forms (Bot Forms for short) to your web site.
Chatbot. Here you can create and "train" your own chatbot for tracked pages of your site. It will work 24/7 and, if needed, can even connect visitors to human operators.
Other. This is a page which includes the Events, Questionnaires, and Published Documents tabbed pages.
New features. Click here to find information about top new features in the Vine version you are using.
Getting Started. If you are a new user you can click this to open the Getting Started wizard which will guide you through configuring the most important settings of Vine MA. This wizard will be hidden automatically when you no longer need it.
Guide. Click here to open this guide.
Info. Opens the information page from the Vine web site where you can, for example, read the latest news, and contact Vine customer support.
Settings. Allows you to configure various tool settings.
Exit. Click this to log off from the tool.
<-. Click this arrow to collapse the menu panel and free more space for the working area.
Using Vine Chat to Get Help
You can find the chat bot icon at the bottom right corner of every Marketing Automation page:
Click it to open a chat dialog and ask questions from the Vine automated bot. You can also ask to connect to a human operator. Please note that the chat bot will improve with time by learning answers to the questions you will be asking.